Read on to learn more about our recent community efforts
KEYSTAFF GIVES HOPE TO DOGS IN NEED
KeyStaff is proud to be saving the lives of so many animals through our support of Austin Humane Society and their Adopt-a-Kennel Program.
Meet Frodo. He is our most recent kennel resident. Since November, the KeyStaff sponsored kennel has provided comfort and shelter to 30 dogs!  These dogs can count on our kennel as a temporary home before they find their forever family.

IN THE COMMUNITY: BOOKS & BUBBLES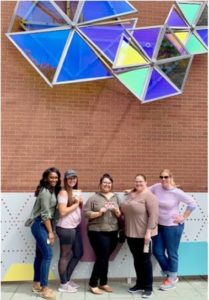 For our quarterly KeyStaff in the Community, the Dallas office recently volunteered to lead the craft and bubble time at the Davis Library in Plano. We made bookmarks, fold out books and name plates as well as blew lots of bubbles. Library staff shared that 50 kids enjoyed our craft time and up to 150 came for bubble time! That's a great impact.
In the photo: Tawsha, Madison, Michelle, Autumn, Amy